Make Your Beach Wedding Unforgettable With RythmTrail's Caribbean Steel Drum Band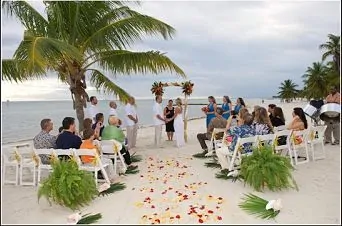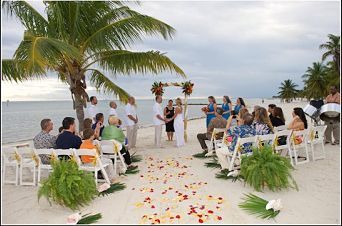 Music is the heartbeat of any gathering. Whether it's a corporate event, party, convention, cocktail hour or a beach wedding, playing the right music is a must when it comes to you and your guests having a great time. Hiring a DJ for your event might seem set the tone for your party music, but it just can't compare to the energy and rhythm of hiring a live band for your event.

But why settle for just any live band when you can hire a unique band that plays the best steel drum music in Florida? Your beach wedding, corporate event or cocktail party is just a phone call away from perfection with the soothing steel drum sounds of tropical paradise from RythmTrail. With over 300 events each year across the globe, you can be sure RythmTrail Steel Drum Band has the experience to make your party, beach wedding or corporate event a memorable and enjoyable occasion.

Whether you're having your beach wedding in Miami Beach or you just need steel drum players for your corporate convention in Naples, you can be sure RythmTrail will play your favorite tunes. From just one steel drum player or an entire steel drum band, RythmTrail can play any event in Daytona Beach, Palm Beach, Destin, South Florida, Panama Beach, Orlando, Clearwater Beach, Florida Keys and anywhere else you need in Florida, nationwide and even internationally.
Videos of RythmTrail in action
Our Beach Ceremonies
RythmTrail steel drum bands beach wedding ceremonies can be as basic as a single steel drum player for your beach wedding reception or as complex as an entire beach wedding from beginning to end—it's all up to you on your special day. RythmTrail offers beach wedding pre-ceremony, ceremony, cocktail hour and wedding reception music for your beach wedding; both indoors and out. RythmTrail will set the tone for your beach wedding by greeting arriving guests with tranquil steel drum music or liven up your wedding reception with your favorite reggae, Latin and calypso dance music. RythmTrail will also make wedding announcements, greet arriving guests and even announce the bride and groom before playing the wedding recessional march.

Our extensive playlists are sure to make your beach wedding a memorable one. From Canon in D to the Somewhere Over the Rainbow to your favorite Bob Marley songs, RythmTrail can play soft and luxurious music for your beach wedding ceremony as well as your favorite dancing favorites for your beach wedding reception. And even when RythmTrail is taking a short break, they keep the party going with recorded songs to match your beach themed wedding perfectly.
Beach Wedding Ceremony Songs
Some of Our Steel Drum Beach Wedding Ceremony & Wedding Songs/Music:
| | |
| --- | --- |
| Bridal Chorus | I can see clearly now |
| Wedding Processional March | Love conquers all |
| Cannon in D | Just the way you are |
| Jesu Joy of Man's Desiring | Just the two of us |
| Somewhere over the rainbow | At Last |
| What a wonderful world | Hawaiian wedding song |
| Every step you make | And I love her so |
| Have I told You | I gave her all my love |
| Heart & soul | Island in the sun |
| Lady in red | Turn your light down low |
| Wind beneath my Wing | Just the two of us |
| It had to be you | Brown Eye Girl |
| Somewhere my love | Feelings |
| Feelings | Cant help Falling in love |
| My cherry Amour | Dream Lover |
| Ribbon in the sky | You make me feel brand new |
| Baby i love the way | Love story |
| Kokomo | For the love of you |
| Lady love | |
| | |
Beach Wedding Steel Drum Band Acts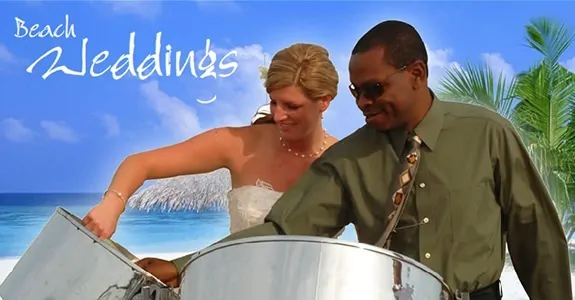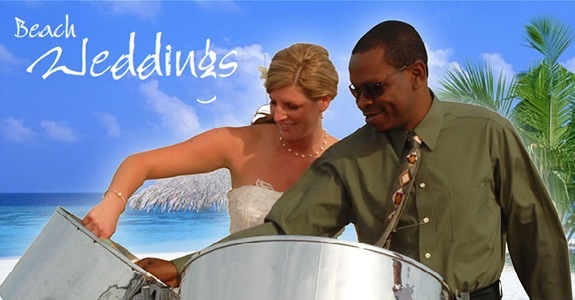 From an entire calypso band performance to a single steel drum player, RythmTrail can help to make your beach wedding the most memorable event of your life. RythmTrail offers these great beach wedding acts to ensure you get exactly the right band and music that you and your wedding guests will remember forever. Here is a list of the services RythmTrail can provide for your beach wedding, reception or other special event:
One Man Steel Drum Band (single steel drum player)
Two Man Steel Drum Group (two steel drum players or one guitarist or percussionist plus steel drum player)
Three Man Steel Drum Band (two steel drum players with a guitar/percussionist or one steel drum with guitars and/or percussion instruments)
Quartet Steel Drum Group (Two steel drummers and two guitars and/or percussionists)
Vocal Performances or Instrumental Only
RythmTrail band members are comprised of native Caribbean Island steel drum players with over 25 years of experience playing beach weddings, receptions, cocktail hours, corporate events and convention halls all around the world. Take a look at some of RythmTrail's reviews from past clients and see for yourself why RythmTrail is the perfect steel drum band for your event:
RythmTrail made our Wedding Reception a CELEBRATION!!! My fiancé( now husband) and I were looking for a laid back, fun gathering of family and friends to serve as our first "Family Reunion" and Ephraim and the band were a perfect touch to a perfect day even allowing two of our quests to "play" the drums. I will definitely be looking for the opportunity to have RythmTrail at our next gathering.

Steel Drum Band at Wedding Reception, Cocoa Beach FL Dec 01 2013

I'm very please with the steel drums at my beach wedding ceremony last month, it was exactly what I wanted, I fell in love with steel drums on a cruise to the Bahamas and always wanted it at my wedding. Thanks for the wonderful music on such short notice.

Steel Drum Wedding Music at Beach Wedding Ceremony Key West Florida - Nov 26 2011

Wonderful steel drums at my wedding ceremony and cocktail hour. The guests loved it. Thanks!!

Steel Drum Wedding Music at Beach Wedding Ceremony & Cocktail Hour, Vero Beach Florida - April 15 2012

The guys were outstanding! They showed up on time, were very professional, and performed remarkably. They made our wedding a memorable one. I would recommend them to anyone. Thank you for everything.

Steel Drum Band at Beach Wedding Ceremony, Cocktail & Reception Anna Maria Florida - April 21 2012

Thank you for doing such an incredible job at my sister's wedding this weekend at Honeymoon Island. The music was fantastic, and it was great that they could do their first dance right there on the beach. We were all thrilled with the music and will highly recommend you guys whenever we can!

Steel Drum Band at Beach Wedding Ceremony & Reception Honeymoon Island State Park, Dunedin Florida - April 21 2012

Thank you for the wonderful service at Kristen's & Rick's wedding last weekend. We love working with you!!!

Steel Drum Music at Beach Wedding & Reception, Islamorada, Florida - May 7 2012

We were very happy that you could be a part of our special day! The drums added just the right touch to our wedding and everyone remarked what a nice suprise it was to have you there. Thanks again!

Steel Drum Music at Beach Wedding Ceremony, Jekyll Island Georgia - May 12 2012

Thank you so much for adding that special touch to our sunset renewal ceremony. Everything was perfect and just as requested. The music was wonderful and everyone enjoyed it. We are still in a daze and it was so much to take in at one time. My husband did not know the songs I had requested, but while taking everything in he noticed each song you played for the ceremony and he was very impressed and emotional. What I did not share with you was each song I requested for our renewal ceremony was actually played in our wedding as well; so you could imagine how special and touching it was for us to have you present and replicating those songs in a Caribbean style beach ceremony. We could not have asked for a more perfect atmosphere to display your talents and celebrate the renewal of our love and commitment.

As you could tell, it was a pleasure to finally meet you and speak to you personally. I was glad the other vendors were able to meet you and enjoy your talent as well. I hope they spread the word! Thank you for everything!

Steel Drum Music at Beach Ceremony Vow Renewal, St Pete Beach, Florida - May 18 2012

Our steel drum player was awesome! Everyone loved the music that the steel drum player was performing. Thanks for making our wedding day extra special!

Steel Drum Player at Beach Wedding Ceremony & Cocktail Hour Reception, Cocoa Beach Florida - May 19 2012

We would like to say a 'big' thank you for coming out and playing your steel drums at our wedding. Everyone who came loved the steel band sound, it really made our day different to others. I would definitely recommend you to others.

Steel Drum Music at Beach Wedding, Cocoa Beach FL, May 28 2012

Thank you so much for providing such a fabulous atmosphere for my daughter's wedding in Orange Beach, Alabama. Everyone had a great time and enjoyed your beautiful music! Aside from your obvious talent, I was most impressed by your professionalism and attention to detail. You arrived on time and had everything in order so that I could focus on watching my beautiful daughter walk down the aisle. I would highly recommend anyone looking for a laid-back and fun evening to call you!

Thanks again for making our special night so perfect!

Steel Drum Music at Beach Wedding & Reception, Perdido Beach Resort, Orange Beach Alabama - Jul 21 2012

RythmTrail Steel Drum Band was a wonderful addition to our April wedding. We used their service for pre-ceremony and during cocktail hour which was a fitting for our beach wedding. The guests loved the unique, upbeat, yet relaxed vibe it brought to the day. Our friends and family were able to request classic fan favorite songs that everyone knew and were able to dance to, which really got the party started. I highly recommend using RythmTrial Steel Drum Band.

Steel Drum Music at beach wedding Ceremony & Cocktail Hour Reception, Anna Maria Florida. Apr 5 2013