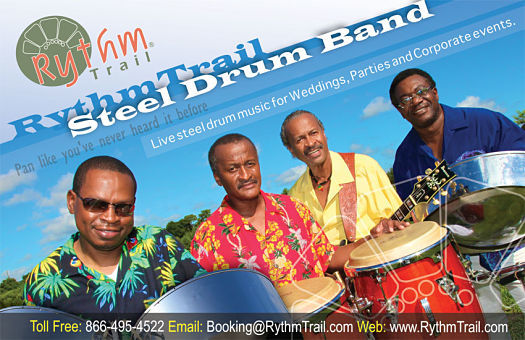 Tampa's Favorite Steel Drum Band
For the best calypso, reggae, soca and live steel drum music in the Tampa region, look no further than RythmTrail! With over 20 years of experience playing steel drum music for beach weddings, business party and wedding receptions, RythmTrail is ready to provide your next event with the lively sounds of steel drums and soothing island music that's perfect for any family gathering, beach party or corporate event.
Whether you need a complete steel drum ensemble or a single solo performance from a live steel drum player, RythmTrail can provide you and your guests with the perfect beach-themed music for your gathering, party or event. RythmTrail will play your favorite song list per your request or let RythmTrail choose a selection of their own songs for the perfect beach wedding in Tampa Bay!
Tampa Florida Steel Drum Players
If you're on the beach in Tampa Florida or you're across the planet in another country, RythmTrail is ready to play all of the best steel drum music for your next event. Give RythmTrail a call today at 866-495-4522 or get your free quote online and make your next party one you and your guests are sure to remember for years to come.
RythmTrail Steel Drum Band also serves the following surrounding Florida cities near Tampa:
Egypt Lake-Leto FL, Temple Terrace, Lake Magdalene, Mango, Brandon, Citrus Park, Bloomingdale, Oldsmar, Lutz, Safety Harbor, Pinellas Park, Saint Petersburg, East Lake, Dunedin and Largo Florida.
Our Steel Drum Band reviews for events in Tampa Florida area
Thoroughly enjoyed having Ephraim from Rythmtrail Steel Drum play at our Christmas party last night! It was our annual office party – backyard, evening, tropical setting. The music this year was the best ever!! We had nearly 40 guests with a wide variety of musical tastes but the wonderful variety and sound of Rythmtrail absolutely appealed to everyone!! Just perfect – thank you, Ephraim, for making the evening memorable!
Kerry
Steel Drum Band at office Holiday Christmas Party. Tampa FL, Dec 12 2015
---
I heard your music was amazing…sorry I was not outside, but my guests said it was fun.
Steel Drum Band at Wedding Cocktail Hour Reception. Tampa FL, Nov 14 2015
---
Everything was great and the client was extremely happy, thank you!
Meagan
Steel Drum Band at Grand Opening for Ryan Homes, Riverview FL, Oct 11 2014
---
Steel Drum Band at 33rd National Veterans Wheelchair Games & Block Party. Tampa Florida Jul 17 2013
---
RythmTrail Steel Drum Band gig update for events in Tampa FL and nearby cities:
Event Update Nov 26 2016
Lilly Pulitzer Store today, Tampa FL. form 12 noon to 3 PM. Shop to live steel drum music the Caribbean sound.
Steel Drum Band Event Update Nov 5 2016
We are jammin at Lilly Pulitzer Store today Nov 5 2016, Tampa FL. form 12 noon to 3 PM. Shop to live steel drum music, Caribbean sounds.
Tomorrow Apr 14 2016
Our steel drum band will be playing at Riverwalk, Tampa Convention Center for opening night reception of the FVMA convention in Tampa Florida.
Apr 9 2016 steel drum band event update. Tonight we will be jammin at Davis Island Yacht Club for a Fundraiser Event.
The best steel drum players in Tampa FL.
Tomorrow Mar 12 2016 our steel drum player will be playing at Lilly Pulitzer Store in International Plaza Mall for a store promotions event. Come by and stop to the sounds of the Caribbean Islands, sweet steel drum music.
Hire the best steel drum band in Tampa Florida for parties, beach weddings and corporate functions.
---
RythmTrail Steel Drum Band gig update today Aug 17 2019. Pool Party 🎈 in Tampa FL.
The best in steel drum music 🎶
#steeldrumband #tampafl #tampasteeldrumband
RythmTrail Steel Drum Band
Steel Drum Band gig update today, Jan 29, 2022
Jammin in Tampa Florida, Gasparilla day outdoor party.
The best in steel drum music
#steeldrumband #steeldrumplayers #Tampa #tampaflorida
Sept 5, 2021, our steel drum players will be jammin in Tampa FL for Birthday Party.
Hire the best high energy steel drum band for your beach wedding, party, rehearsal dinner, corporate function, community events, Christmas & Holiday Party in Tampa Florida area.
May 14, 2019
Steel Drum Band, Tampa Florida
Book steel drum players for Church Service events, Anniversary Party, Family Reunion, Grand opening / Ribbon cutting events, birthday party, Community events, holiday party, cocktail events, beach weddings & Corporate functions in Tampa FL. #steeldrumband #tampafl #steeldrumbandtampa
Steel Drum Band Brandon, Florida- RythmTrail
Hire the best steel drum players for beach weddings, corporate functions, anniversary celebration, rehearsal dinners, street festivals and community events in Brandon FL
For the best reggae, soca and calypso book authentic island born steel drum players from RythmTrail Steel Drum Band in Tampa Florida. We bring any tropical themed event alive with our high energy performances. Book our steel drum players for your beach weddings, corporate function, birthday party, rehearsal dinners and more in Tampa Florida area.
Steel Drum Band Tampa | Steel Drum Players Tampa FL | Steel Drum Music Tampa Florida | Beach Wedding Steel Drums