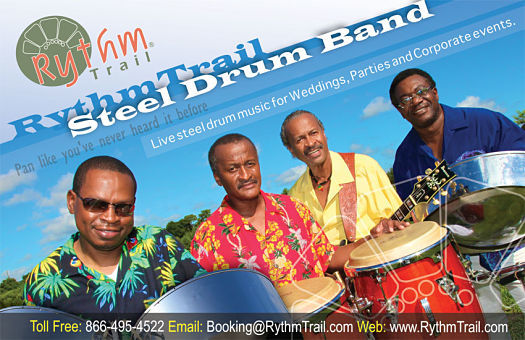 West Palm Beach Steel Drum Players.
Are you looking for the perfect beach wedding music? Do you need the ultimate steel drum band for your corporate event? Or are you just looking for the best calypso, reggae, soca or steel drum music in West Palm Beach for your wedding reception? With over 20 years of steel drum experience from native Caribbean islanders, the happy sounds of a full-on steel drum band are just a phone call or click away!
Make Your West Palm Beach, Florida Occasion Special With Our Live Caribbean Steel Drum Sounds
Serving West Palm Beach, the entire state of Florida and even internationally, RythmTrail provides beach weddings, corporate events and wedding receptions with the best steel drum players so you can be sure you're going to get the perfect festive, romantic or lively steel drum band sounds that will make your next event one you and your guests are never going to forget.
From a single steel drum player to an entire steel drum band, RythmTrail has got the sounds for you! Create your own personal playlist of songs or let RythmTrail set the tone for your gathering—either way, they're sure to set the perfect mood for your event. Whether it's romantic ceremony music or festive sounds to liven the party, RythmTrail has got the perfect tunes for your next W. Palm Beach event. Call RythmTrail today at 866-495-4522 or get a free quote online and whisk your guests away with the soothing sounds of Caribbean steel drum music.
RythmTrail Steel Drum Band also serves the following Florida cities:
Palm Beach, Riviera Beach FL, Century Village, Lake Park, Palm Springs FL, Lake Worth, North Palm Beach, Lantana, Palm Beach Gardens, Royal Palm Beach, Wellington, Boynton Beach FL, Jupiter, Delray Beach, and Kings Point, Florida.
Recent steel drum band reviews from clients in Palm Beach area.
Absolutely fantastic,..
The steel drummer the way they put us together is just dynamic with the music Great rhythm and talent. I have used him for two different parties both times were fabulous!! If you want some real great live talented music use RythmTrial Ephraim‼
Trina
Steel Drum Band at House Warming and Birthday Party celebration Jan 23 2016. Palm Beach Gardens, FL
---
---
Hello Ephraim,
I just wanted to drop you a note and let you know that your guys were FANTASTIC! Everyone at our paella party just raved about the music and how great you two were. I know of several people who will be contacting you for their next event.
THANK YOU for doing such a great job! You are the BEST!!
Brenda
Steel Drum Band at House Party, Palm City Florida. Jan 11 2014
---
The band was spectacular, we have truly enjoyed the most reliable talented musician, all my guests have asked for their business card, I haven't heard a steel drum player that good in a long time and he satisfied all of the guests. Fabulous steel band player ever, cannot wait to have another party to enjoy his music once again!!!!! The best 🙂
Trina
Steel Drum Band at Christmas House Party, Palm Beach Gardens FL Dec 20 2013
---
RythmTrail Steel Drum Band gig update for events in Fort Lauderdale, Delray Beach and West Palm Beach Area:
Event Update Nov 26 2016
Our steel drum player will be jammin at a wedding cocktail hour reception today at Casino Building Complex in Lake Worth Florida.
Event Update Nov 19 2016
Solo steel drum band on the beach tonight at The Everglades Club in Palm Beach FL. Hire the best steel drum players in Palm Beach Florida.
Steel Drum Band Event Update Nov 5 2016
Jammin in Delray Beach Florida today at Seagate Beach Club for a Bar Mitzvah. Hire the best steel drum players for your weddings, parties and corporate function in Delray Beach area.
Oct 14 2016 – Lake Worth Florida
Our Steel Drum players will be jammin at an Engagement Party in Lake Worth FL
Hire the best steel drum band RythmTrail in West Palm Beach Florida area.
Steel Drum Band event update Feb 06 2016.
Live steel drum music in West Palm Beach Florida tonight for a beach wedding ceremony, cocktail hour and reception after dinner. Hire the best steel drum band and steel drum players for weddings, corporate functions and parties in south Florida.
RythmTrail Steel Drum Band gig update Jan 23 2016.
Our steel drum players will be in Palm Beach Gardens tonight for a house warming and party event.
The best steel drum music for weddings, birthday party, beach weddings and more in West Palm Beach and south Florida
RythmTrail Steel Drum Band event update Dec 31 2015:
Our steel drum band will be playing at a rehearsal dinner on Dec 31 2015 and beach wedding ceremony on Jan 1 2016 in Delray Beach Florida. Book the best steel drum players & Jamaican steel drum music for your next event.
We service: Anniversary Party, beach weddings, house parties Art Gallery Opening, Awards Night Party, Baby Shower, Bachelor Party, Bachelorette Party, Baptism event, Banquet, Bar Mitzvah and Bat Mitzvah we play any event.