Watch RythmTrail's Demos & Book Your Event Today!
Big Band Demos
One Man Steel Drum Band Demos
Our Steel Drum Band travels to: Miami - Hialeah - West Palm Beach - Port St Lucie - Key West and many more cities in Florida
The musical offerings of RythmTrail Steel Drum Band are extremely versatile which is why its Steel Drum Players have served as a reggae band, island band and calypso band for numerous clients' special occasions. In fact, this ensemble of native Caribbean Island steel drummers has played at over 300 events throughout the country!
If you are looking for
Steel Drum Music
that is authentic, uplifting and sure to get you on your feet, RythmTrail has the right steel drum players and reggae musicians for you. To get a better understanding of this steel drum band's abilities, take a moment to listen to their demos and
Steel Drum Music Samples
. You will quickly see that Rythm Trail's ability, intonation, style and
Steel Drum Band Music
is unlike any other musical performers out there.
Florida Steel Drum Band
RythmTrail spends most their time offering
Wedding Music
, corporate entertainment and beach party music in the state of Florida. Over the years, RythmTrail has become a leading
Florida Steel Drum Band
that is well-known for offering fun-filled entertainment, tailored play lists and quality performances for clients and their guests.
If you are in the midst of planning a beach wedding, cocktail party, corporate event or beach party, consider hiring a steel drum band like RythmTrail to the mix. You and your guests will truly have a memorable occasion and memories to last a lifetime when RythmTrail provides the music and entertainment for your next big event.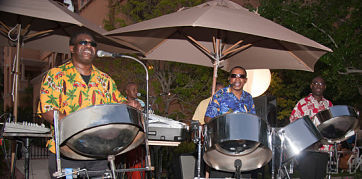 Florida Wedding Bands
Planning a wedding in Florida? Chances are you are searching for the perfect
Wedding Band
to set the tone for the most important day of your life. While there are many
Florida Wedding Bands
to choose from, know that when you hire RythmTrail as your entertainment provider, your wedding music will have your guests moving and grooving all night long. The band's steel drum players not only possess decades of experience, but they are also skilled when it comes to creating perfect playlists for special occasions (just listen to some of the band's
Demos
). Whether you want romantic ballads or soothing calypso music, island music or reggae music, you will be more than impressed with the musical selection RythmTrail has to offer.
Unlike other Florida wedding bands, Miami wedding bands, Orlando wedding bands or Tampa wedding bands, RythmTrail specializes in
Steel Drum Wedding Music
that is perfect for
Beach Weddings
. Both you and your guests will be more than pleased with their tropical wedding music selection.
RythmTrail is committed to fulfilling the needs of clients. Whether you are in search of a one man steel drummer or a full cast of steel drum players (steel drum band) in Florida, RythmTrail is ready to exceed your expectations. To learn more about the musical services offered by this Florida steel drum band, call 866-495-4522 today!